Learn How Senior Living Communities Saved $300K in Annual Costs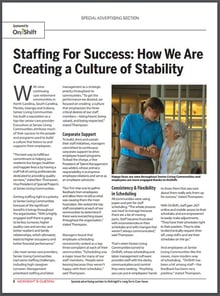 Leadership at Senior Living Communities knew an engaged workforce provides quality service to residents. But staffing challenges and high caregiver turnover across their CCRCs led to inconsistent schedules and frustration among employees.
Managers surveyed staff at each of their communities and found that scheduling consistently ranked as a top complaint.
Download the the case study and learn how Senior Living Communities used OnShift and:
Saved $300,000 in annual labor costs
Realized a 15.6% reduction in turnover
Gained a 75+% increase in staffing efficiencies
PLUS: Find out how proactive shift adjustments based on census fluctuations helped Senior Living Communities hit their labor budget and consistently achieve Five Star staffing goals.
With OnShift, it's easy to alert staff of schedule changes through text, email, phone or mobile notifications. And staff gain 24/7 online access to their schedules to make adjustments easily.