Learn the Latest in Senior Care Employment, Hours & Wage Trends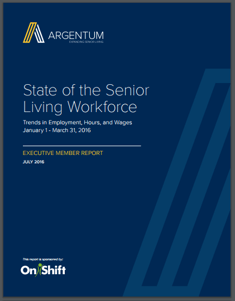 The senior living industry is projected to need about 1 million new employees to meet workforce needs in the coming years - and retention is more important than ever.
That's why Argentum published the State of the Senior Living Workforce, a guide for operators serving as a benchmark for workforce metrics across the senior living industry.
This report delivers insight into:
Industry job growth compared to national job growth
Wage growth within senior care industry segments, such as continuing care retirement communities, assisted living and skilled nursing
Average hours worked and hourly earnings for senior living workers
The report is available to Argentum members at no cost and to nonmembers for $29.