Improve Cost Management With a Focus on Staff Scheduling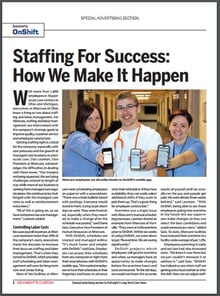 For skilled nursing operators, Altercare, getting staffing right was critical, especially with payroll expenses representing more than 50% of costs.
Altercare used OnShift Software to automate online shift scheduling, reduce overtime and staff to census.
Get the case study and learn how:
One facility reduced overtime from 6.6% to just 1% in a six-week period

Staffing was adjusted to the correct census levels which improved efficiency

Time spent finding replacements for call-offs was greatly minimized
At Altercare, employees can access their schedule using an app or on desktop. And if they have availability? They can easily select additional shifts – a win-win for employees and the community!
PLUS: Find out how a resource dedicated to your success can help you improve operations and impact your bottom line. DOWNLOAD NOW!