READY, SET, ENGAGE!

Hiring the right staff--and keeping them engaged--is an ongoing challenge for senior care communities. Labor is the single greatest expense for operators, and many report that it presents the greatest challenge as they work to hire, and retain, the best talent.
This whitepaper will help you;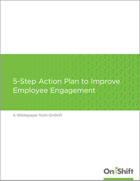 Learn how to reduce turnover and screen for the best senior living administrators and staff

Uncover the benefits of taming unpredictable and erratic schedules for your caregivers

Drive tangible results from implementing employee engagement strategies that reduced turnover and improve customer satisfaction
Download our guide to deliver powerful clinical, operational and financial improvements. Higher quality care and service for your communities await!