New CMS PBJ requirements have providers searching for answers on how to best set-up staffing processes. Read this whitepaper for 5 tips to ensure your organization is ready.
Read 5 Steps to Get Payroll-Based Journal Ready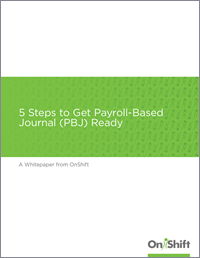 The staffing processes of skilled nursing facilities are on the brink of a major upheaval. With a focus on transparency and accuracy of staffing information, The Centers for Medicare and Medicaid Services (CMS) will soon be requiring all nursing facilities to submit staffing information electronically.
Download this whitepaper and use the five-step action plan contained within to ensure your organization is PBJ ready:
Identify & Classify All Direct Care Staff
Assign CMS Job Codes
Know What Counts, What Doesn't
Institute Proper Checks & Balances
Get Proactive